FLR31Y11Y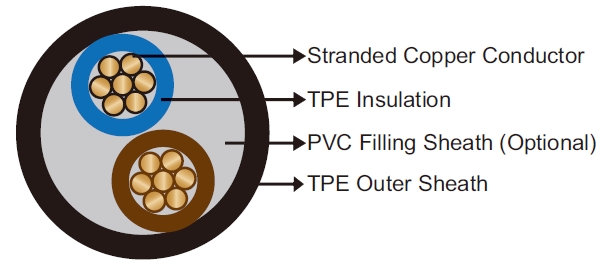 Applications
FLR31Y11Y are used as airfield lighting cable for secondary electrical circuits. The cable insulation as well as the plug and receptable insulation is of the same material - thermoplastic polyester elastomer (TPE), which provide excellent electrical and mechanical properties and resistance to oil, kerosene, aircraft fuel, acids, alkalis and chemicals typically present on the airfield. The cable is equipped at its end with a FAA L-823 Type II Class A Style 7 receptable with removable sealing unit giving a watertight joint in accordance with FAA L-823, Style B.
Standards
ICAO: Aerodrome Design Manual Part 5
CEI: 245-4
NF: C 32-102-4 /C 32-120
HD: 22.4
FAA AC 150/5345-26
Construction
Conductor: Plain annealed copper conductor,
stranded to IEC60228 Class 2/5.
Insulation: Thermoplastic polyester elastomer (TPE).
Filling Sheath (Optional): PVC
Outer Sheath: Thermoplastic polyester elastomer (TPE).
Technical Data
| | |
| --- | --- |
| Rated Voltage Uo/U (Um)  | 600V  |
| Operating Temperatures  | -40℃~+90℃  |
| Min. Bending Radius  | 5×OD |
|  Max. pulling Force  | Total Cross-section x 50 N/mm2  |
| Conductor Resistance Ω/km @ 20°C  | <4.95  |
| Voltage Test kVac -min  | 2.5-5  |
| Insulation Resistance MΩ.km @20°C  | >100  |
| Abrasion Resistance |  Yes |
|  Oil Resistance |  Yes |
|  UV Resistance |  Yes |
|  Deicer Resistance(FR/KAc) |  Yes  |
Dimensions and Weight
| Construction | Nominal Insulation Thickness | Nominal Shield Cross Section | Nominal Sheath Thickness | Nominal Overall Diameter | Nominal Weight |
| --- | --- | --- | --- | --- | --- |
| No. ×mm² | mm | mm² | mm | mm | kg/km |
| 2×4 | 0.8 | 4 | 1.2 | 12.6 | 208 |